About Kuoma
Kuoma is a family-owned and operated shoe and clothing manufacturer founded in 1928 in Kuomiokoski by Juho Puttonen. Today, the company manufactures high-quality and durable shoes as well as clothing for children and adults to go outside. All Kuoma shoes are made in Finland at our Kuomiokoski factory. Kuoma products are sold in thirteen countries around Europe, Asia, and North America.
Kuoma's values include responsibility, Finnish expertise, and craftsmanship. These values steer our everyday work from design to production.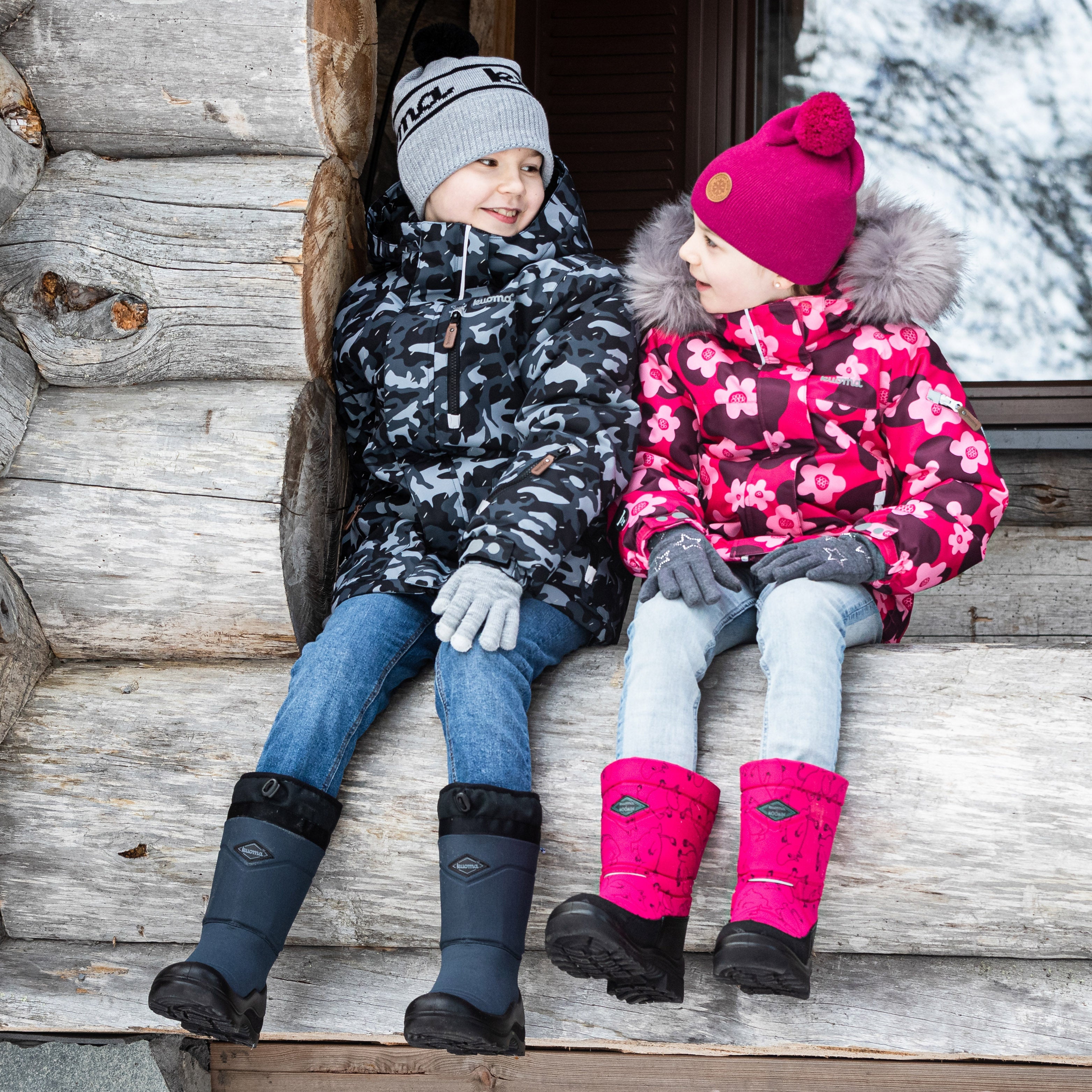 Sustainability at Kuoma
Kuoma incorporates the Ten Principles of the UN Global Compact on human rights, labour, the environment, and anti-corruption. We also focus on four of the United Nations Sustainable Development Goals. We recognize that businesses have a key role to play to advance sustainable development goals and that our business activities have economic, social, and environmental impacts. We focus on our activities that have the greatest impact.
We have made significant progress to reduce our CO2 emissions in our production in Finland. In 2020, no CO2 emissions were produced from the energy used in our Kuomiokoski factory where all our shoes are produced. Our factory was powered with renewable, nuclear, as well as solar energy.
A key aspect of our Kuoma shoes is their durability. Our shoes are made to last. They are durable, easy to clean, and can last for many seasons and even be passed on to younger siblings or other kids over time which reduces consumption.
We are working to reduce the negative impact of the materials we use in the manufacturing of our products. Our shoe production facilities are located in Finland and our manufacturing materials mostly come from Finland and other EU countries. We use recyclable and recycled materials in our products and our packaging.
We are also committed to ensuring a safe and healthy environment for our employees.
We will continue our journey to advance sustainable development goals. We will work to define and reach clear targets on sustainability.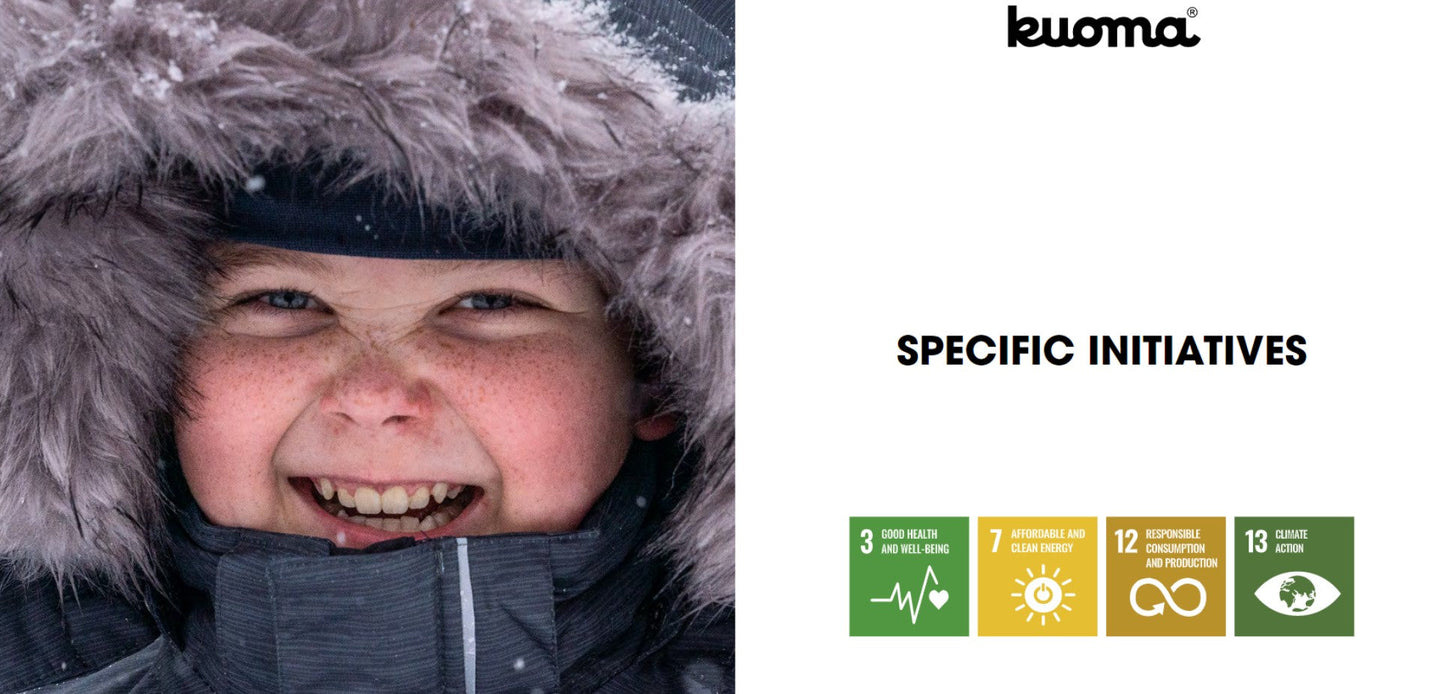 • In 2020, our Kuomiokoski factory was powered 100 % with renewable, nuclear and solar energy. No CO2 emissions were produced from the energy used in our Kuomiokoski factory.

• Solar panels and a geothermal heating system are installed at the Kuomiokoski factory.

• Heat recovery systems generate a significant part
of the heating at our Kuomiokoski factory.

• We minimize the amount of waste produced. All waste that is produced at our factory is burned for
energy.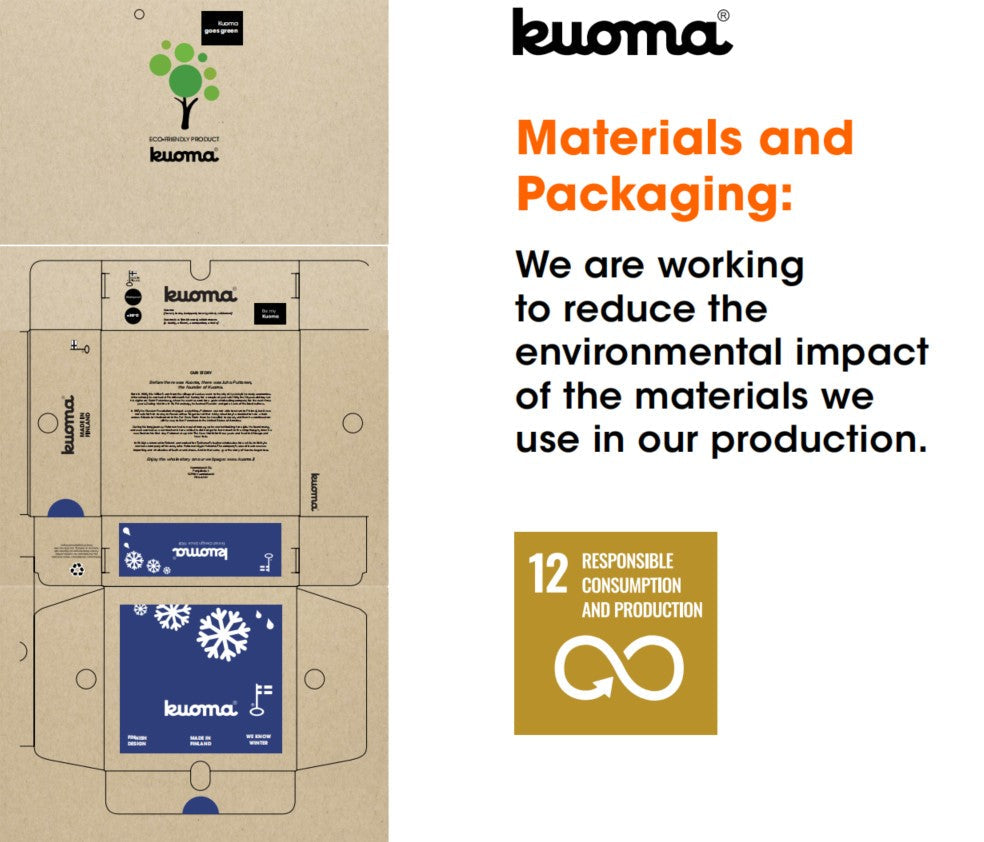 • We believe in producing durable and high-quality products.

• All our shoes and headwear are made in Finland with materials sourced from responsible companies
operating in Europe.

• We are a responsible company and we use recycled materials whenever possible for making our shoes.

• The lining material as well as the sewing thread used in our shoes have OEKO-TEX® Standard 100
certification.

• We use Norilia Swan Eco Label Wool from Norway as well as OEKO-TEX® certified wool felt.

• The leather, as well as sewing threads materials we use, do not contain any SVHC substances included in the REACH Candidate List.

• The leather used in our products is a byproduct of the meat industry.

• We use recycled PET material.

• We ask our suppliers to commit to minimizing the impact of their activities on the environment and to comply with environmental legislation.

• Our clothing is made with quality materials to last long and is protected with BIONIC-FINISH® ECO (fluorine-free durable water repellency).

• Our boots are shipped in boxes made of 80 % recyclable cardboard.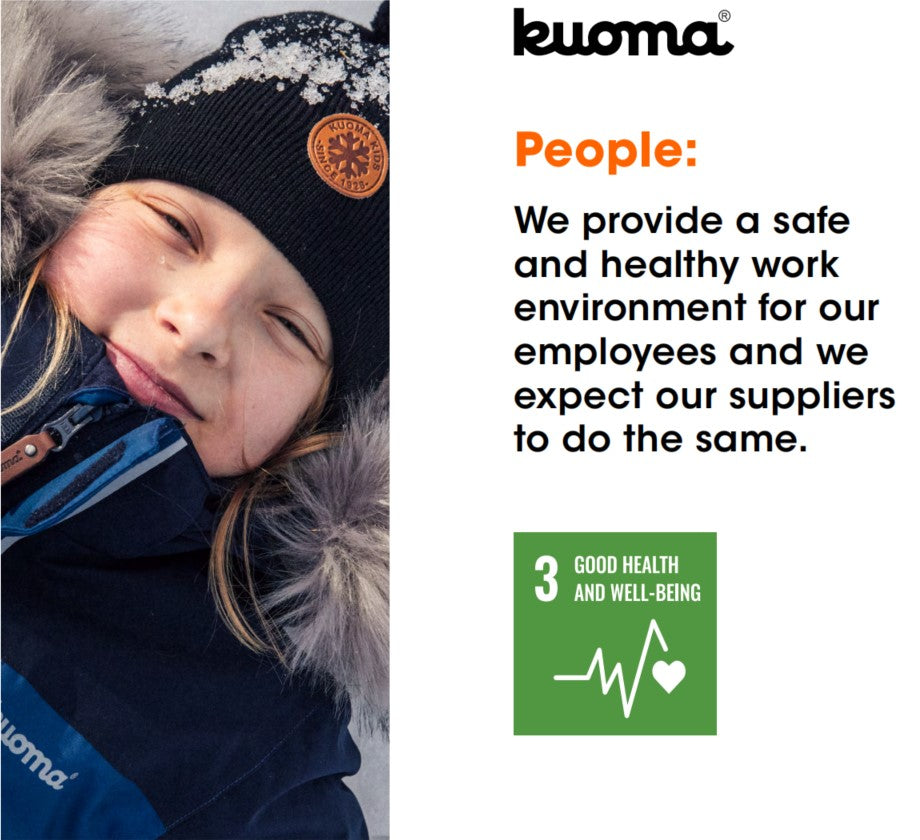 • We value our employees, treat them fairly and promote non-discrimination under the Finnish
Non-Discrimination Act.

• We provide a healthy and safe work environment.
• In collaboration with our employees, occupational safety and health risks are continuously assessed to ensure compliance with guidelines and regulations.

• Our employees can join a labour union.
• We ask our suppliers to respect labour and human rights as well as provide a safe work environment and working conditions.

• Our clothing suppliers abroad meet BSCI requirements and we conduct audits to ensure a safe and healthy work environment is provided.